신성뉴스
Park Dae-hui, CEO of Shinsung Engineering, named Trader of the Month who made Korea shine
신성 엔지니어링 ㅣ 2020-10-28 ㅣ 조회수 895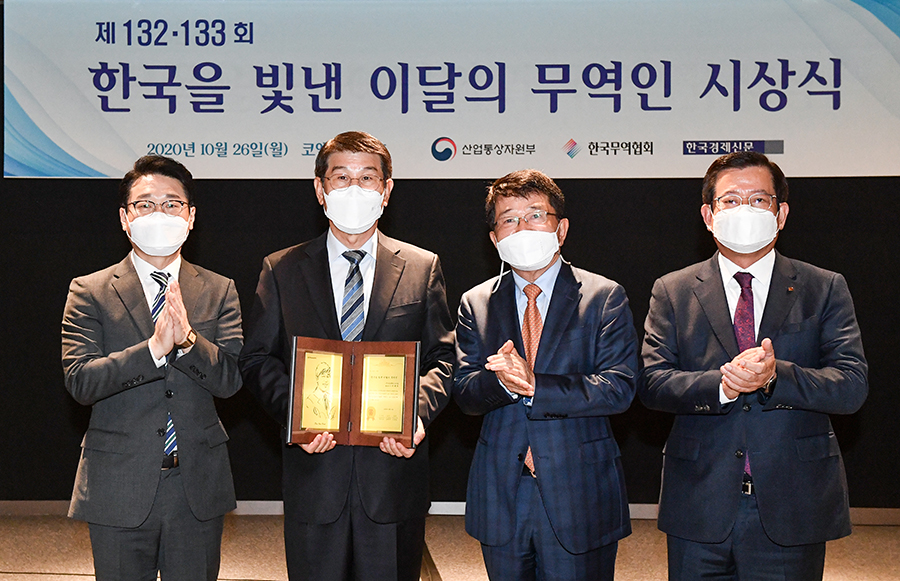 - Achieved $20 million in exports this year through active development of technologies and pioneering of overseas market.
- Share of overseas sales jumped from 8% in 2017 to 32% in 2019.
The Korea International Trade Association announced that Park Dae-hui, CEO of Shin Sung Engineering Co., Ltd., was named "Trader of the Month" at the "132nd Trader of the Month who made Korea shine" event held at COEX in Samsung-dong, Gangnam-gu, Seoul on October 26 (Monday).
The Korea International Trade Association has operated since July 2007 the "Trader of the Month who made Korea shine" it enacted to promote exporters' willingness to export and boost the morale of traders who are contributing to strengthening Korea's national competitiveness through exports.
The Trader of the Month award is presented to one CEO who has made outstanding achievements in strengthening export competitiveness and expanding exports among companies with annual export performance of $5 million or more.

Park Dae-hui, who has contributed to the development of Korea's refrigeration and air conditioning sector for the past 40 years, has led the company for 16 years as CEO of Shin Sung Engineering and contributed to the development and export of domestic refrigeration and air conditioning technologies such as high-efficiency turbo freezer and absorption heat pumps, along with the latest system air conditioning technology such as dry room system, geothermal system for apartment houses, and floor air conditioning system.

In particular, since joining the Kiturami Group in 2008, he has focused on enhancing the competitiveness of products and services such as increasing the proportion of technical support and research personnel to more than 30% of the total and improving the quality of customer service. As a result, export performance stood at US$ 20 million following last year, a 10-fold increase compared to 2017.

In addition, CEO Park Dae-hui has stably established refrigeration and air conditioning systems at the major overseas bases of semiconductor and secondary battery manufacturing companies such as Poland, Hungary, China, and Vietnam. Thanks to such technological prowess, the portion of overseas sales increased from 8% in 2017 to 32% in 2019.

"Established in 1977, Shinsung Engineering is a 43-year-old company specializing in refrigeration and air conditioning. It is contributing to the globalization of domestic products. As we face the post-corona era, Shinsung Engineering will take responsibility as a company representing the refrigeration and air conditioning industry in Korea. It will lead the refrigeration and air conditioning market based on world-class technology and quality and contribute to maintaining Korea's status as an export giant in the global market," said Park Dae-hui, CEO of Shinsung Engineering.